Curriculum
Here at Coppice Farm, we are proud to provide a wide and varied curriculum ensuring our pupils have lots of different opportunities to engage, enjoy and excel in their learning.
Our curriculum aims to inspire, motivate and support all learners to reach their full potential :
Engaging learners in the highest quality learning activities to develop and embed a culture of creativity, ambition and achievement.

Providing a safe, happy, stimulating and inclusive environment where each individual learner feels valued and supported.

Working in partnership with parents, learners and other agencies to support learners to become:

Successful learners

Confident individuals

Caring and responsible citizens
INTENT
To

provide a rich and varied curriculum which encourages our seven Super Learning Powers and is inclusive to all children.

To ensure our curriculum creates curiosity and interest, raising expectations and expertise.

To engage children as enquiring and motivated learners.

To provide an engaging curriculum which allows children to build on previous learning, securing firm foundations for the future.

To excite, inspire and empower children through a range of educational experiences along with the celebration and exploration of local history.
IMPLEMENTATION
All of our teachers will have good subject knowledge and will be supported to maintain and improve this knowledge through training and observing best practice .

Subject leaders will provide colleagues with support for planning, resourcing and teaching.

Lessons will be engaging and inspiring including practical elements of learning linked to real life purposes and relevancy.

High quality texts will be used from EYFS to Year 6 building on the foundations of excellent teaching of phonics.

All subjects are carefully mapped out to ensure optimum coverage and progress throughout school, from EYFS to Year 6.

The teaching of key vocabulary will be embedded across all subjects.

The curriculum is carefully planned to fulfil all of the programmes of study and the National Curriculum

.
IMPACT
The impact of our curriculum is evaluated through end of year assessments and end of Key Stage 1 and 2 SAT tests;

Termly impact and achievement is reported to our Board of Governor.

Focused and regular monitoring of teaching, learning and pupil voice ensure consistency across school.

All children achieve well by developing knowledge and skills as they progress up through school - this is demonstrated through milestones outcomes at EYFS, Phonics (Year 1), Keys Stage 1 and Key Stage 2.

Children with SEND achieve the best possible outcomes and are monitored and supported by specially trained staff.

Children leave Coppice Farm Primary School ready for a successful transition to secondary school having developed lifelong learning skills and enquiring minds.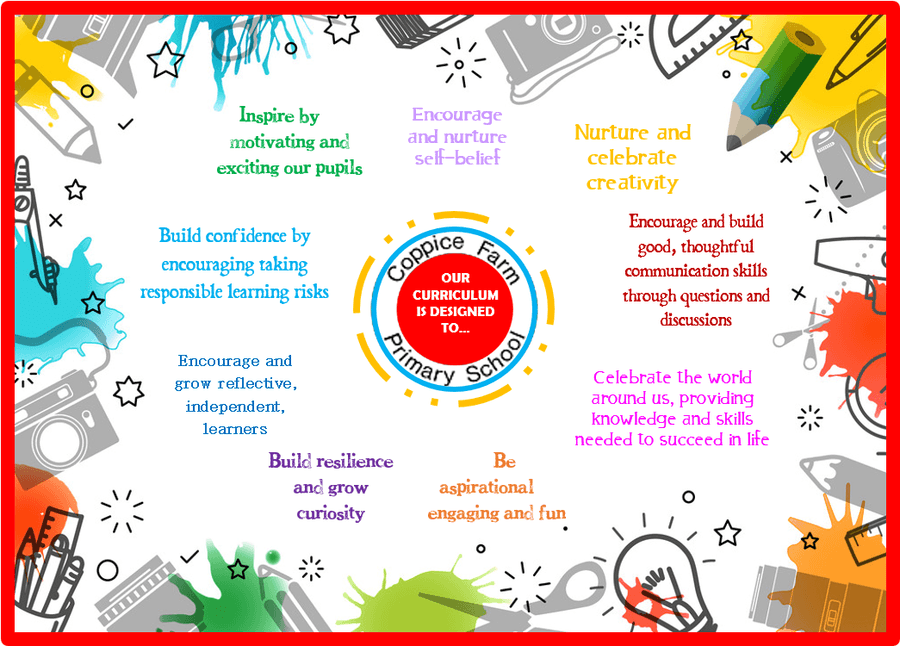 ****curriculum links coming soon......
Our Draft RSHE policy is available for you to read . Its is a consultation document so please feel free to provide feedback
through the method described at the end of the policy RSHE policy draft
Our Draft Anti- Bullying is available for you to read. If you wish to make any comments or contribute in any way then please contact the school office.